BACKGROUND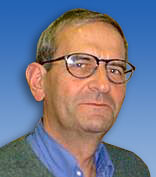 Olivier Martin has been one of the main initiators of the CERN Internet Exchange Point (CIXP), an Internet history landmark that has been built at CERN from 1989 using standard Ethernet switching technology and serving both academic and commercial Internet Service Providers. Following the de-regulation of the European Telecom industry back in 1996, the CIXP became one of the first "carrier neutral" Internet Exchange Points (IXP) in the world.
The CIXP was subsequently extended through dark fibers.to another neutral location in Geneva (Telehouse Switzerland SA now owned by Equinix). The CIXP has been one of the very first IXP to incorporate an "all optical", photonic switch, from Glimmerglass as part of its infrastructure in order to gain additional operational flexibility but also to gain experience with new modes of operations like "on-demand optical wavelengths", i.e. "lambdas" .
During his time as head of the external networks, Olivier Martin supervised the growth of CERN's external communication facilities from 2*9.6 kbit/second circuits to CEA Saclay, near Paris, and Rutherford Appleton Laboratory in Oxford to several 10Gbit/seconds circuits to Europe and the USA, making CERN one of the largest Telecom "hubs" in the world. From 2002 till first quarter 2004, Olivier Martin was the manager of the European Union DataTAG project (Research and Technological Development for a DATA TransAtlantic Grid). It is in the framework of this project that numerous new Internet2 landspeed records have been successfully established in close cooperation with CALTECH, the California Institute of Technology) for both IPv4 and IPv6.